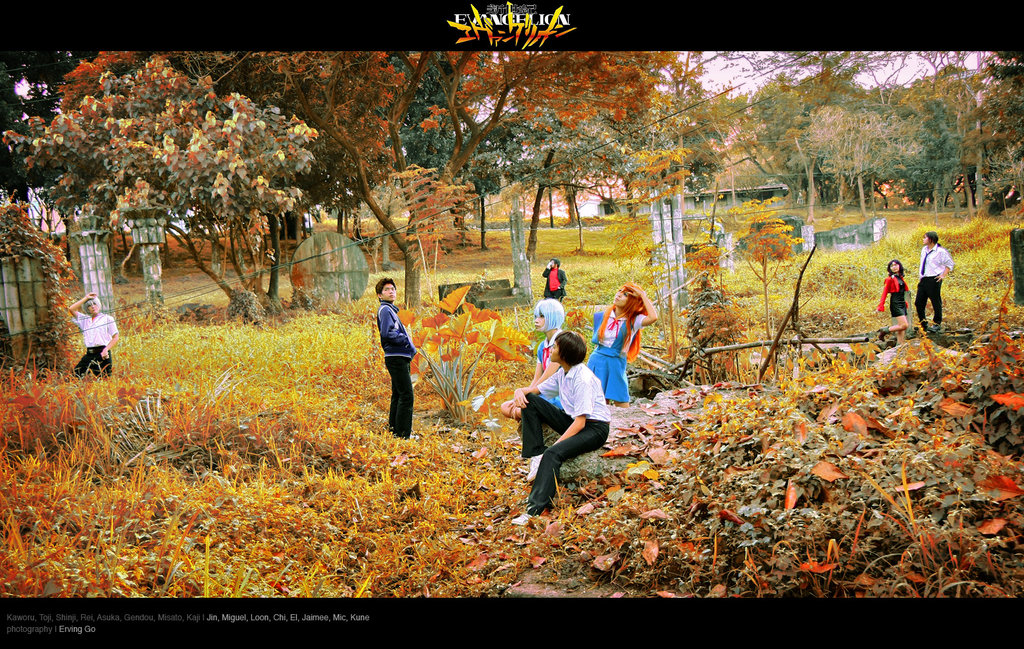 One of my Personal Top Five is Evangelion: Genocide Extended. As a warning, the premise of this story is spoilers for all of Evangelion, so it's tagged. Eva Ep24 Spoilers This story has absolutely superb characterization and character interaction, which is elevated further by its excellent prose. Watching the entire series and the movie are required for this fic.
The multi-volume doujinshi "Evangelion Re-Take" absolutely deserves a mention for its stellar art and story. I won't say too much, but it is just all-around excellent and I immensely enjoyed it. The original contains explicit content, but their is an All-Ages version due to the original's huge popularity. Only for those who have finished the series and movie. It's up to you to track these down though, because I can't seem to find it.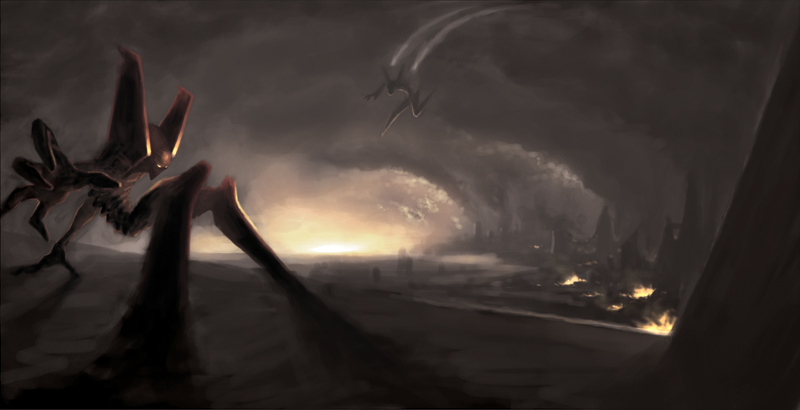 And something that has to be mentioned is the epic Shinji and Warhammer40k. It is a crossover set in the world of Evangelion, but with the intensity and scope of the Warhammer universe. Shinji finds an old box of Warhammer washed up onto shore as a child and it changes him fundamentally. Shinji becomes confident and ambitious, with an extremely solid sense of identity. I may not be doing a good job of selling it, but the prologue will tell you if this story is for you. Unlike the others, it isn't completely necessary to watch all of the original, but still highly recommended.
Synopsis
Three months after the death of Kaworu, NERV and its people struggle to rebuild. The Children face new challenges, but for two of them the worse thing may just be each other.
Amidst the pain and despair, outside events quickly spiral out of control.
Excerpt
Genocide 0:01 / Dispositions.
Room 303 in the Cranial Nerve Ward was located at the far end of a long corridor, deep inside the fortress of Central Dogma.
Shinji Ikari, Third Child of the Evangelion Project, didn't know what had compelled him to come. Perhaps it was the need to reach out to someone who just might be able to understand what he was going through; or perhaps it was the desire not to be alone—that primal instinct to seek out companionship out of desperation and an overwhelming fear of loneliness.
But more than anything, he wanted someone to talk to; someone in whose words he could find some measure of comfort, that tiny spark of reassurance that would make all the pain worthwhile.
He couldn't talk to Misato–even when she actually came home they barely saw each other anymore and she seemed to have so dedicated herself to her work that he hardly thought his problems would matter to her. He couldn't talk to Rei Ayanami, not after what he'd seen and what he'd learned about her.
There was simply no one else left.
Fluorescent illumination flooded everything with harsh light, reflecting off the towers of medical equipment and the polished tile floor so that all colors appeared to wash out into a white flash. The air was cold, loaded with the heavy scent of disinfectants—the same nauseatingly sterile smell he'd come to associate with the worse moments of his young life. Given its large size, the room was clearly intended to deal with multiple casualties, but there was only a single bed near the far end.
A single bed for a single patient, who might have passed away without anyone noticing if not for the constant beeping of the EKG machine that echoed the rhythm of her heart. She lay sedated, curled up beneath the sheets, her disheveled red hair spilling over the pillow under her head, an I.V. line injected into her bandaged left wrist nourishing her with a bag of liquid hanging from a stand by the bed.
She looked so small as he approached her. Even though the sheets only revealed the contours of her body, there was no hiding how young she was.
Shinji didn't know what was wrong with her. The grownups hadn't bothered to explain anything, probably deeming him just a child who would not able to understand. And maybe he didn't, maybe they were right. After all, he was here for himself instead of for the girl that lay on the bed. The reality of that fact sickened him … but, still, he was here.
"Asuka …" Shinji called softly, his throat dry. "Please, talk to me."
There was no reply.
He reached down cautiously and grasped Asuka's shoulder. Leaning over her, he caught a glimpse of her face and noticed that she looked oddly peaceful. Her pretty features, which were outlined against the pillow, seemed relaxed in a way Shinji had never seen them before, blissfully lost to her own sad situation.
But even that thought troubled him—because Asuka was supposed to be energetic, loud, outgoing. Seeing her lying here wasting away was a hard blow to stomach. No comfort could be found in the medications that coursed through her system and kept her from waking. It wasn't sleep; it was a last measure of escape, the only one that could be found besides death.
Shinji felt almost as sorry for her as he did for himself.
"Asuka …" he whispered again, tugging at her. "Asuka, talk to me."
Nothing. She didn't move; didn't make a noise. And though Shinji knew she couldn't help it because of her condition, her indifference felt like a cold stab at his heart. Had she been awake, he knew she would have called him names, and made his life miserable. He thought that would have been preferable to nothing.
Had she been conscious he would have never come. So terrified was he that he simply wouldn't have been able to gather the courage to come see her. Regardless of how badly either of them might need someone.
He was too much of a coward.
"Asuka …" Her name sounded hollow, meaningless. She had always been so proud of it. He shook her again, hoping that perhaps she could hear him so deeply within her own subconscious. "I killed someone."
The admission was like an open invitation for the memories. An onrush of emotions so powerful they threatened to wash away all composure. Pain—disgust—anger. All directed inwards. He could still feel on his hand the weight of Kaoru's body … the bones crushing. He just wanted to tell her. Somehow, in his mind the thought that she might forgive him for what he'd done to someone else would make it better. Asuka would understand because she was the only one that could.
But she would do nothing.
"I killed …" his voice trembled and faded. Then his heart tightened in the cold silence, and a rush of anger at the uncaring girl crashed through him. "Asuka, say something. Anything! Please! ASUKA!"
He shook her violently, his voice rising to a sharp, utterly desperate scream. His fingers clawed into the thin material of her sheets; into the soft flesh of her shoulder. He felt tears beginning to run down his cheeks, and with a final effort yanked at her with all his strength.
Asuka's limp form rolled silently onto her back. Several of the sticky leads of the EKG peeled off her body and sprang back on the cords that connected them the bedside machine, lying scattered haphazardly on the mattress. The small hospital blouse that was all she wore came undone, her flesh looking sickly white under the lights. The sheets slipped away, falling rustling softly on the floor.
Shinji straightened, his eyes wide.
He stared at her naked body now sprawled on the bed; her pale young breasts exposed to the air, rising gently as she breathed; the flat stomach; the flaring hips disappearing beneath the underwear-like diaper; the creamy white thighs. She was barely a teenager, yet already so much of a woman.
How many times had he wanted to see this?
Asuka had always gone out of her way to tease him, to drive him crazy with desire only to call him a pervert and scream at him, simultaneously offering and denying him what they both knew he couldn't have. But despite the abuse he had endured at her hands, she was the object of his fantasies—the thing that fueled his sexual urge more than any other.
He was only vaguely aware that it was normal for boys his age to have these sort of feelings. It was all part of being a teenager, of growing up. He had heard all that in the sex ed. classes the students were forced to listen to in which the teachers would go on about unprotected sex and abstinence. Nobody ever paid any attention. It was all normal.
Except he didn't feel normal.
And this was no fantasy.
Asuka lay so invitingly before him, more open than she had ever been before, as if she were waiting for him to act. She was broken—the girl that would fight him and scream at him was gone, replaced with a naked body. All he had to do was reach out and … violate her.
Shinji took a step back, feeling his chest tighten horribly with guilt; the sad expression on his face replaced with one of revulsion.
This was his fault: he should have helped her when the Fifteenth Angel broke into her mind; should have done something other than sit in his Eva, hearing her scream as her psyche was torn to pieces. And afterwards, he should have been there to comfort her, to let her know that she was not useless and need not be alone.
Because, despite everything, they had shared a close bond through their Evas. He was supposed to understand her just as he had here come hoping she would do the same for him.
This was his fault … because he had done nothing.
As she would do nothing for him.
"I'm…sorry, Asuka." The feeling of sickening self-disgust rolling through him choked his words and a gloomy, heavy silence enveloped the room once again, broken intermittently only by the EKG's electronic heartbeat and his quiet sobbing.
Shinji didn't try to call for Asuka again, and rushed out of her room moments later, still in tears.