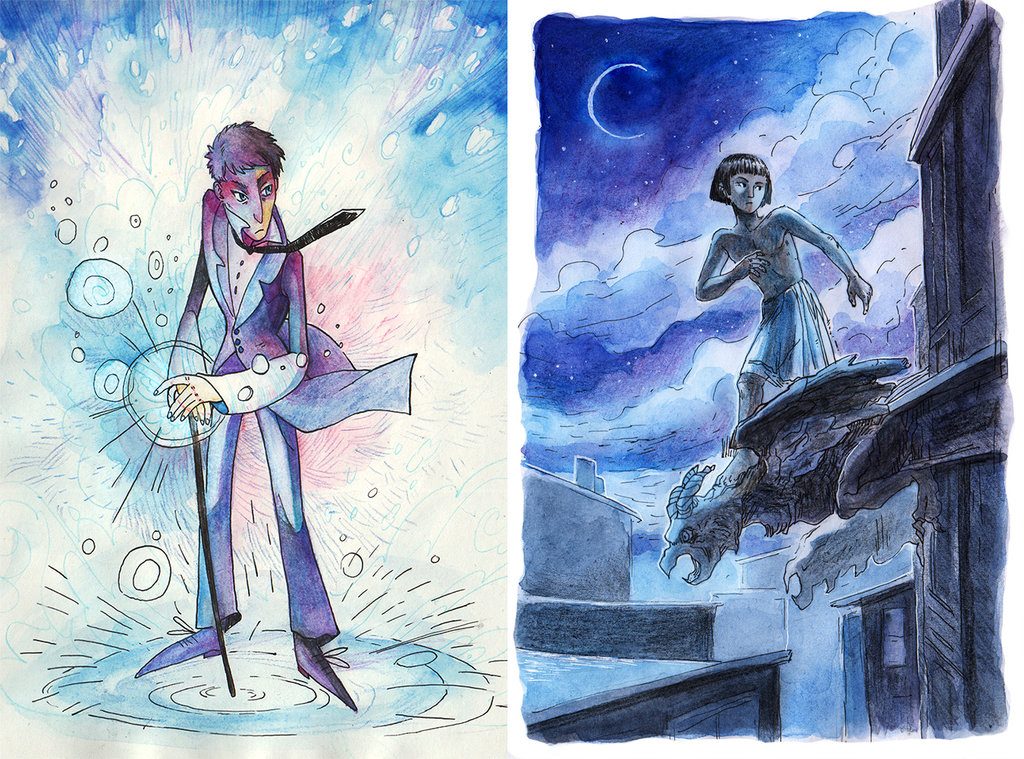 A Day in the Life is a Bartimaeus Trilogy fic set in an AU without magic.
Bartimaeus is a human bookstore owner and Nathaniel is his employee. Kitty is a waitress at the cafe across the street. Unlike some modern AU stories, it has an actual plot: Nathaniel overhears Simon Lovelace, a politican, doing something shady and is put in danger because of it.
The dialog and narration are great, which is essential for a Bartimaeus fic. It's slow-paced at first, but the humor and dialog keep it entertaining even then.
Synopsis
In an alternate universe without magic, a sarcastic store owner by the name of Bartimaeus hires an ambitious young man named Nathaniel and sets into motion a series of events neither of them could have foreseen.
Excerpt
Chapter One
The hustle and bustle of downtown London easily compared to the rush hour of any other European city. Prague? Not much going on there, really – the entire city seemed like it was stuck in a solemn funeral march. Paris? Perhaps, but somehow the lazy blur of French city life couldn't compare to the absolute chaos that was downtown London. Rome? A mixture of Paris and Prague, really – still quite hectic, but unable to disentangle itself from its lengthy history.
Me? Not too big on the city life, to tell the truth. I'm more of a country boy. (Well, I'm not really a boy by any stretch of the imagination, but you get the point.) Not that I've ever lived in the country. It just seems nice. Quaint. Quiet. And all those other alliterative words with similar connotations.
Naturally, given my distaste for modern life in downtown London, I lived right near the area. At the time this story began I was the owner of a small book store right across from Druid's, a popular coffeehouse. Of course, I've since moved on to bigger and better things, but it's always nice to remember where you came from. It keeps you humble. Of course, I have no problems with modesty, but still. You get the picture.
I kept five employees on staff besides myself – Anne Stephens, a fairly kind lady (although not always to me) who knew the contents of the store (and English labor law) better than I did; Jenkins (whose first name I have resolved never to use), an annoying young man who I only kept around because he made damn good coffee; George Ffoukes, a rather lazy man that I often caught dozing off on the job who I only kept around because he annoyed Jenkins; Eva, a young girl who came in after school and in the days during the summer to work the desk and often got into arguments with Jenkins (offering Ffoukes an opportunity to irritate him even more), and thus making herself invaluable to the shop; and Timothy, a quiet youngster that usually kept to himself.
Unfortunately, Timothy fell ill and was forced to quit, leaving me with an open spot. Normally, being the cheapskate that I am, I wouldn't have replaced him, but Eva was unable to pick up any of Timothy's work hours due to her school schedule, Ffoukes just didn't want to, I didn't want Jenkins to, and Anne already worked the same hours as Timothy (and more).
So reluctantly I began searching for someone to work in Timothy's place. The first two applicants were real doozies – one of them a lady with pointed glasses who wouldn't shut up about the poor state of Britain's public libraries, the other one a girl who in fact wasn't even looking for a job and was instead wondering if I would like to donate to some charitable organization so she could beef up her résumé
After several other candidates that were just as highly qualified and distinguished as the first two, I was ready to accept just about anybody. Which is how the kid ended up getting the job, as you'll see.
He walked into the shop with a priceless expression on his face – awe, greed, and ambition all rolled up in one package. You might wonder how I could read that off of a kid coming into a bookstore. Let's just say I've had practice.
"Hullo," I said dully from my seat behind the desk, reciting the standard greeting to paying customers that no one on staff ever bothered to say. "Welcome to Alexandria Books. How can I help you?"
"I'm here for the job interview," he said, walking right up to the counter.
"Joy." I could barely contain my excitement. "Sit down, I guess."
"There's not a chair."
"Never mind, then."
The kid didn't seem put off by my less-than-enthusiastic demeanor. Instead he seemed ready to wet himself at the prospect of working at the store, actually. His enthusiasm scared me slightly, but he was vastly saner than most of the other people I'd interviewed, and only half as annoying. That's not saying much, but he was better than nothing.
"Well, then," I said ten minutes later, cutting off a long narrative that I'm sure would've been quite entertaining, "that's it. You're hired."
"Really?" He could barely contain his glee. At this I reconsidered the thought of hiring him, but I soon remembered the other interviewees and nodded.
"Yep. You'll start tomorrow, if you can."
"Great!"
"Yeah." I paused. "Wait. I never got your name."
"Oh." He blinked. "It's Nathaniel."
"Very well. It's a pleasure to have you on staff, Nathaniel." This was a blatant lie. "I'm Bartimaeus. Jenkins is in the back somewhere right now, but trust me, you don't want to meet him."
He gave me an odd look but said nothing. "Okay, I guess. I'll be here tomorrow, then, at ten o'clock."
"I look forward to it."